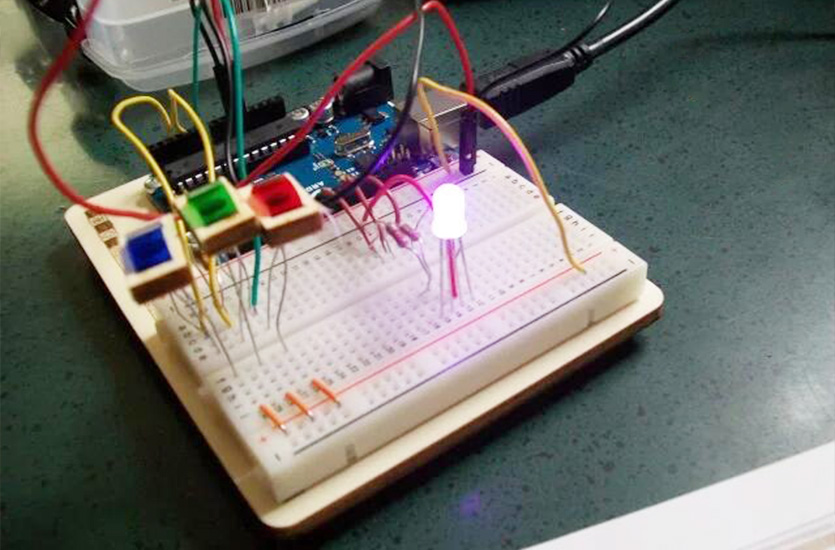 For children and teens interested in robotics and programming, an Arduino starter kit is an excellent way to begin.
What exactly is Arduino? Simply put, Arduino is an open-source platform used for building and programming electronics projects. Projects range from incredibly simple to very complicated. Arduino refers to two things. First, the actual programmable circuit board, or microcontroller. Second, it refers to the computer software used to program and control the device.
There are a few things to consider when choosing an Arduino starter kit. Perhaps most importantly, it should include some sort of manual or instructions. In the beginning, starting with Arduino can be a bit daunting, and clear instructions will help young makers get started. Also, a basic kit should include an Arduino control boards and enough components for at least a few projects. Arduino is the perfect platform for beginning electronics and these kits will help your youngster get started in the exciting world of programming.
Starter Kit Options for Kids and Teens
1. Official Starter Kit for arduino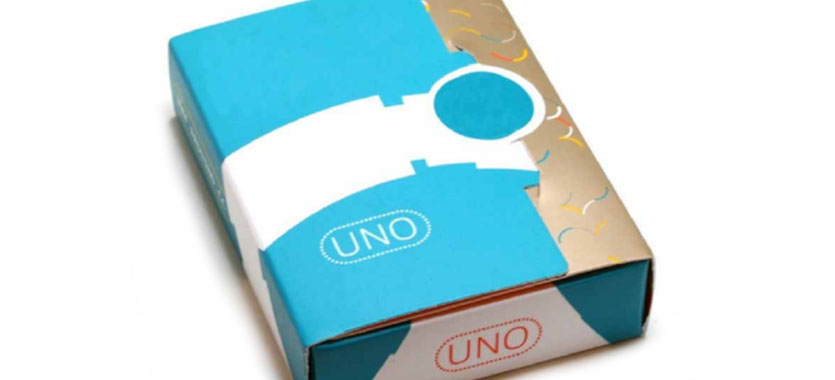 The Official Starter Kit for arduino offers everything young makers and programmers need to create 15 fun projects. This kit includes the Arduino UNO, the most recent Arduino control board. In addition, it has all of the essential components like the control board, lights, buttons, switches, resistors, and more. Additionally, it features a detailed 170 page with instructions. Projects include a lamp that works with touch controls, a mystical crystal ball, a knock lock that allows the user to open a door with a secret code, a musical keyboard, and more. This is a well-appointed kit for beginners.
2. UNO R3 Project Complete Starter Kit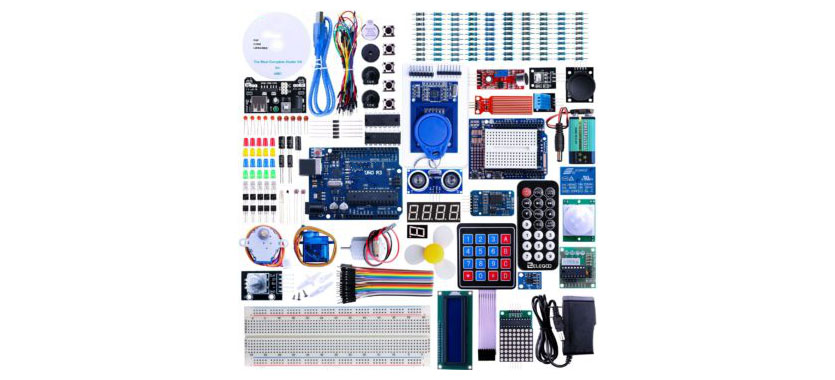 The UNO R3 Project Complete Starter Kit includes more than 200 components and 63 Arduino specific products. It features the Arduino UNO R3 controller board. As an added bonus, all of the modules are pre-soldered and connect easily. This is an excellent feature when considering a kit for children and teens. Download the free PDF tutorial with 30 Arduino building and programming lessons and project ideas. This kit also includes a helpful CD with necessary codes. The entire kit is stored in a convenient container with divided compartments for smaller components.
3.UNO Project Basic Starter Kit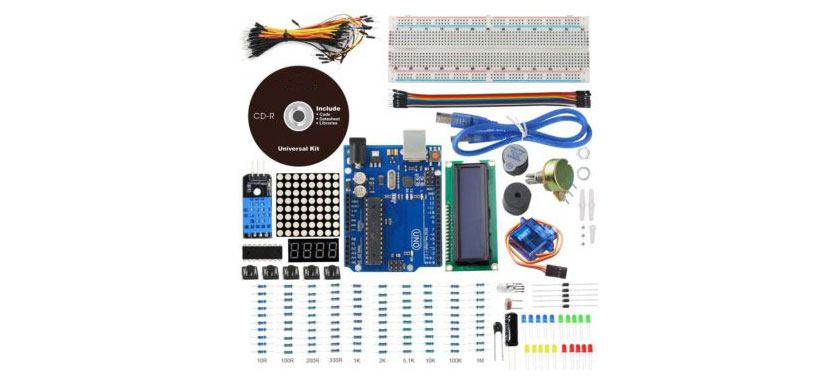 The UNO Project Basic Starter Kit is a great Arduino starter kit for beginning programmers. It includes more than 140 components for creating unique Arduino projects. Featuring the latest Arduino UNO R3 controller board, this kit also includes an LCD 1602 screen and an 830-hole breadboard. Also, a servo motor SG90, temperature and humidity sensor, potentiometer, thermistor, and 8*8 LED matrix. The included CD has a 23 project tutorial with necessary software and source code. Additionally, the kit comes packaged in a convenient storage container.
4. UNO Project Smart Robot Car Kit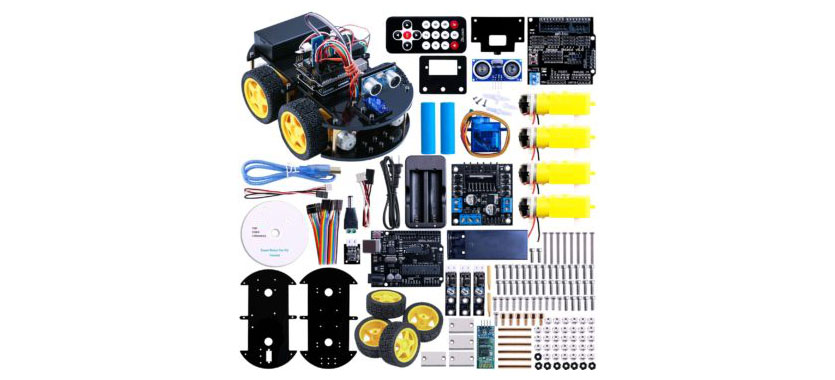 Construct and program a cool remote controlled smart car with the UNO Project Smart Robot Car Kit. Build your smart car and install the programmable Arduino UNO R3 control board. After it's built and programmed, control the car with the included IR remote. Or, use the included CD to install and smartphone app and control the car with Bluetooth. The kit includes all of the components required and reviewers report that this kit is appropriate for Arduino and robotics novices.
More details please contact with the team of Okystar!
https://www.okystar.com/wp-content/uploads/2017/05/blog5-1.jpg
550
835
tina
https://okystar.com/wp-content/uploads/2017/05/okystar-logo.png
tina
2017-05-27 10:48:58
2017-06-22 06:19:53
Best Starter Kit Options